Dawson Santoro has developed a love affair with the White Mountains of New Hampshire and everything it means to him.  Over the years, and especially since the accident, Dawson has been totally embraced and loved by the amazing people of the Mount Washington Valley.  Not that this comes as any surprise, Dawson is loved and admired just about everywhere he goes.  But there is some incredible energy that Dawson puts out and receives back when it comes to "going home" each summer.  The children, the parents, and the entire community, especially those at Tin Mountain Conservation Center, www.tinmountain.org have truly made this home away from home him.  Dawson's dad, Bob, recalls; "It feels like yesterday that Dawson was entering Kindercamp at just five years old, and this past summer, at nearly 13 years old, Dawson is Junior Counselor for the very same Kindercamp.  He loves working with the kids as much as he does attending as a camper himself.
After an autumn trip in '08 to his vacation home there, he was given a hand made scrap book by all of his friends in the community.  The one mother who initiated the scrapbook, wrote her own poem that will have a special place in Bob's heart forever……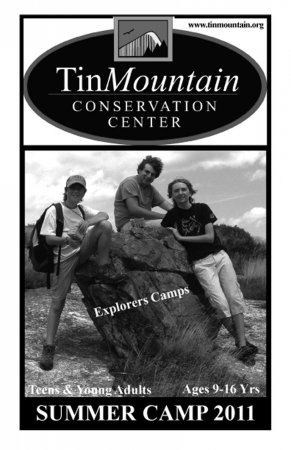 There once was a boy named Dawson,
who came into our lives and was Awesome!
His Smile is bright, his eyes oh so blue,
his freckled face, it does grow on you.
He's playful, funny and kind
and he won't leave us behind.
So farewell for now but don't forget,
he'll be back, so keep him in mind!
~Melissa Grady
Each new summer, Dawson signs up for camp he's a year older and enrolling in more and more challenging Treks.   This past summer of 2011, Dawson was in a particular week long camp with Tin Mountain that involved hiking over 30 miles for the week with a 30 pound pack on his back.  With each day's end he and the counselors and other campers overnighted in a different AMC (Appalachian Mountain Club) www.outdoors.org  hut.
At right, Dawson is featured on the cover of the 2011 Summer Camp Brochure.
(Dawson is at Left)