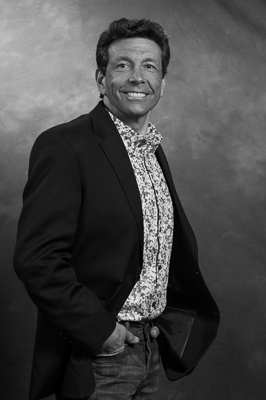 Bob Santoro was born in Brooklyn, New York on April 3, 1964. In 1966, they moved to the suburbs of New York City where his parents bought their first home.  His father was a hardworking, blue collar worker as a cement finisher in the union and his mother was a housewife.  After high school, Santoro attended a community college and then went on to study architecture at The New York Institute for Technology.
While attending New York Tech, he took a position as a drafts-person and salesman at a local Kitchen and Bath Showroom. After one year of learning the business, he took a position at a new firm that was just opening where he helped them launch their new showroom. After just 6 months, Bob left to start his own design business. For the next five years, he expanded his business, Cold Spring Designs catering to upscale clientele on Nassau County's prestigious North Shore. In late 1990, he moved to Fairfield County, Connecticut where he purchased his first home.
In early 1991 his life changed when he met the woman of his dreams, Karen Negri.  Negri was a graduate of Western Connecticut State University.  When they met, she was working full time as a drafts-person at a Connecticut kitchen and bath showroom. Bob and Karen were married in June of 1992 in an incredible, celebrity like, wedding ceremony and reception that took nearly a year to plan.  Over the next four years they continued to build Cold Spring Designs into a million dollar business.
Bob was the lead salesperson for the company and Karen was an incredible artist heading the drafting department.  But it was the collaboration of their two individual design talents on their client's projects which really manifested their reputation as award winning interior designers.
Their various projects were featured in eleven magazines and their local newspaper.  In 1993 the newlyweds also took second place in The National Kitchen and Bath Association's
National Design competition.  They had an award winning booth twice yearly at the Fairfield County Home Show.
They spent their weekends either entertaining at home, on their boat or flying to day destinations around The Northeast.  Bob, who was a pilot since 1985, had a passion for flying.
Near the end of 1995, the couple sold their booming business and headed for warmer climate.  They moved to Atlanta where they immersed themselves in their new business which they desired for quite some time.  Almost immediately, they joined the Georgia Real Estate Investors Association. In 1997 Bob was elected Vice President of The Georgia Real Estate Investor's Association in Atlanta.
This was the largest Real Estate Investors Association in the United States at the time. Bob remodeled a few small investment properties in Suburban Atlanta. He also refurbished one very large total remodel investment property in the prestigious community of Buck Head in Atlanta. This 1930's Country French antique painstakingly took nearly a year to complete.
In late 1997, just two years short of moving to Atlanta, Bob and Karen moved one last time to Santa Barbara, California. There, Bob continued to invest full time in real estate and almost immediately, they began planning a family, which included the adoption of two 6 week old puppies.  In September of 1998 they welcomed their first child into the world, Dawson Owen.  Thirty months later, in late March of 2001, their second son, Ian Sterling was born.
They lived an amazing life for five wonderful years as a family of four. But, on Saturday morning, July 1, 2006 life, changed for Bob Santoro in a way he could never have imagined.
Today, Bob and his son Dawson live in southwest Florida where they have started a new life together as father and son.  Bob, who continues to invest in Real Estate and is beginning to travel sharing his story with audiences across the country.
He is also writing his first book.